---
WE'RE HERE TO SERVICE YOUR HAIR NEEDS
to schedule your next appointment!
---
ULTIMATE HAIR CARE NEEDS
Hair Cuts $50 to $65
Wash & Blowout / Wrap & Style $50 to $65
Relaxer $85 to $150
Thermal Straightening (Press) $75 to $110
Permanent Wave $90 to $125
Texturizer $55 to $90
Trim $35 to $45

TREATMENTS:
Deep Treatment $20 to $25
Invati $35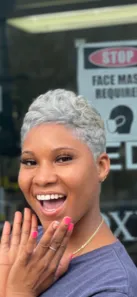 Colors:
Single Process Demi $45- $50
Permanent ( per application) $65 to $85
Highlights:
Full Head $150 up
Double Process Priced Upon Consultation
Weave Extensions:
Tracks $20 to $30 (per track)
Cornrows $250 up
Extend Tubing $450
Crochet $160 to $200
Natural Hair:
Locs Retwist $90 up
Double strand Twist $90 up
Double Strand Twists with Extension $250 - $350
Rod sets $90 up
Lock Style $35 up
Braids:
Cornrows without extension $65 - 100
Cornrows with extension $ 125 - $250
Box braids $200- $300
Please note that these may not be your final prices. Additional time may also be needed for more texture, thicker, or longer hair types. We will accommodate your request for styling hair with curling irons, flat irons, blow dryers or other heating tools and this will be reflected in the price.
Bridal Services:
Bridal Hair Style
In salon $130 + on location $390
Bridal Make-up
In salon $100 + on location $300
Each Additional Person Priced Upon Consultation
*Rehearsal Session Required For All Bridal Service.

---
Spa Reservation Policies and Guidelines
A credit card is required to hold your appointment.

We request advance cancellations or reschedule requests at a minimum of 24 hours.

If you are a no-show or cancel your appointment in less than 24 hours and we are unable to reschedule your appointment, you will be charged half of the amount of your service booked.

We request that all cell phones, pagers or electronic devices be turned off or set to vibrate upon entering the treatment room.

Prices listed do not include taxes and gratuity.

Taxes plus a $13 minimum mandatory gratuity apply on all Services.

All permanent colors and/or hair extension services must be booked by 5:30 pm.